Verizon Chases Zoom, Acquires Blue Jeans to Get Into Video Conferencing
Zoom has turned a normally-boring corporate tool into the talk of the town as it became the most downloaded app in the App Store and Google Play for more than 30 days. That success pushed Google to improve Meet, and also drove Verizon to scoop up Blue Jeans, a Zoom competitor.
Unless you deal with big companies, you've probably never heard of Blue Jeans. The video conferencing solution is not as popular as Zoom but touts an impressive customer list that includes Facebook, LinkedIn, and other popular companies.
Let's take a look at what the competitive landscape for video conferencing is like at the moment: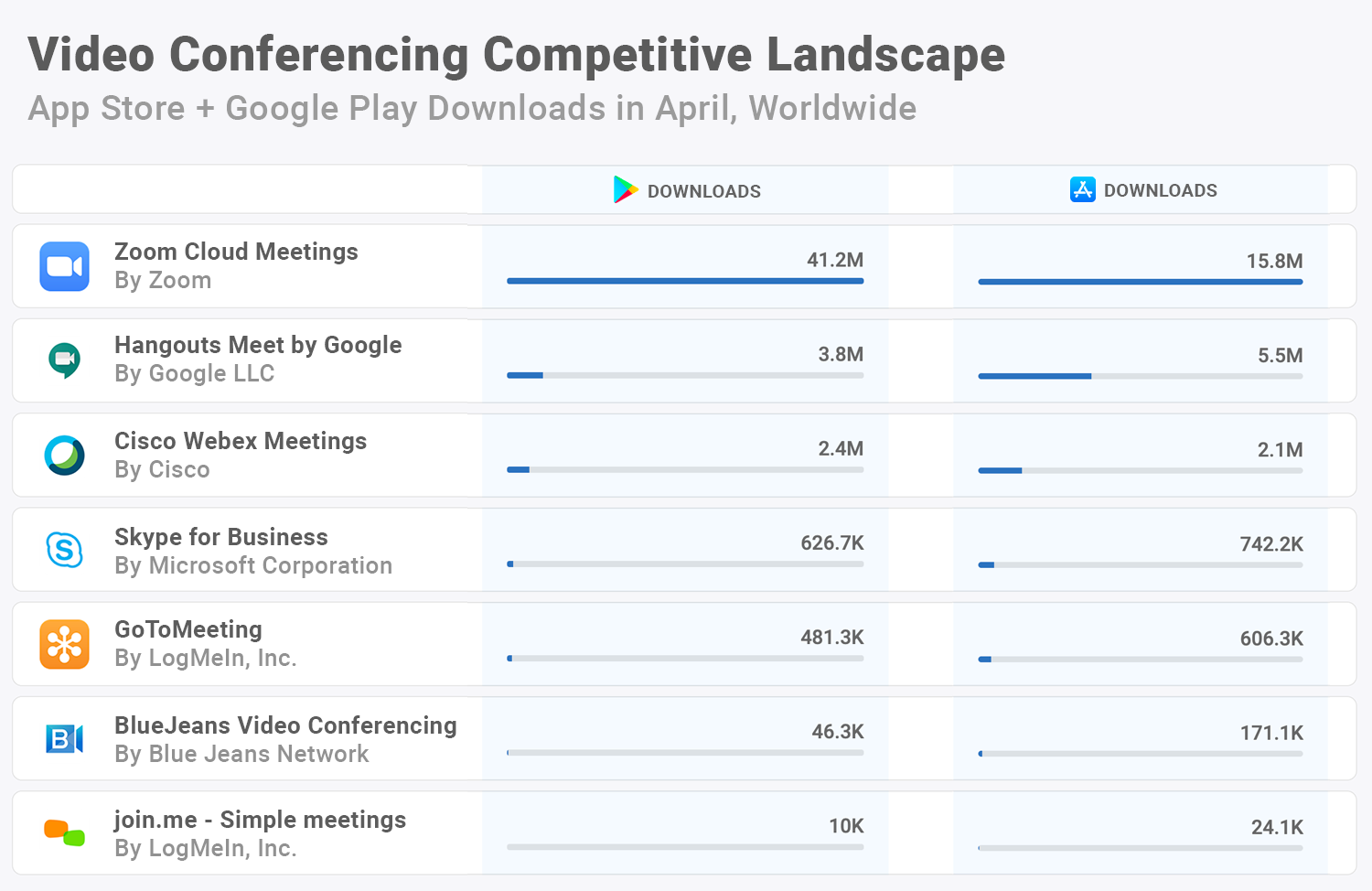 The Only Option
Although Blue Jeans' numbers aren't as impressive as Zoom, other video conferencing solutions are already owned by large enough companies that are unlikely to sell them. WebEx is owned by Cisco, Skype by Microsoft, and GoToMeeting by LogMeIn, a publicly-traded company with 25 subsidiaries.
Impressive Lockdown Growth
Even though its numbers aren't in the same ballpark as Zoom and Google, download of Blue Jeans on the App Store and Google Play have grown 10-fold since the lockdown started in March.
Downloads have grown from a little over 1,000/day across both stores to as many as 15,000/day. These downloads aren't going down either. For six weeks in a row, daily downloads have exceeded 10,000, mostly from the App Store.
Verizon's broad reach could mean a whole new ball-game for Blue Jeans. Let's see how this acquisition plays out post-lockdown.
App Intelligence for Everyone!
The insights in this report come right out of our App Intelligence platform, which offers access to download and revenue estimates, installed SDKs, and more! Learn more about the tools or schedule a demo with our team to get started.
Are you a Journalist? You can get access to our app and market intelligence for free through the Appfigures for Journalists program. Contact us for more details.
All figures included in this report are estimated. Unless specified otherwise, estimated revenue is always net, meaning it's the amount the developer earned after Apple and Google took their fee.