This Week in Apps #1: Corona, Zoom Hits a Million Downloads in One Day, Peloton, Disney+, and more.
Welcome to the first edition of This Week in Apps, a short, no-fluff, review of interesting things that happened in the last week across app stores. With the coronavirus causing immense uncertainty, there's a lot going on right now. Here are our top highlights.
1. Zooooooooom. Video conference app Zoom has become the de-facto way to gather online and has been hitting new records for downloads on a daily basis as it made its way into the #1 position in 120 countries this week. Earlier in the week, it also crossed 1 million downloads across the App Store and Google Play for the first time. Report
---
2. Almost 1,000. Downloads in Italy are off the charts. Things have changed so rapidly that we had to update our estimate models several times in the last week to maintain accuracy! Most notable is the Mobile Download Index for the Business category, which is just a few points shy of 1,000, the highest any category has every reached. We expect it to reach 1,000 tomorrow. Report
---
3. Need a fitness coach? Are your muscles feeling the strain of working from home? You're not alone. Guided workout apps have seen a serious increase in downloads. One to note is Fitness Coach ·, which popped into the top 10 Health & Fitness charts this week and is now sitting at #3.
Seasoned developers will notice the app is using a black-hat ASO trick (that little circle at the end of its name) to game Apple's search algorithm. It appears to be working out for them.
---
4. Peloton rides away. A more familiar name in fitness is also having a great week. Downloads of Peloton, the in-home streaming fitness service, have quadrupled this week, pushing the app into the #6 position in the Health & Fitness category.
---
5. Costco & Sam's Club apps finally get downloaded. Although downloads for major e-tailer such as Amazon, Walmart, and Target remained stable, the less "mobile" Costco and Sam's Club have seen a 3x and 9x increase, respectively, in downloads as consumers continue to hoard toilet paper.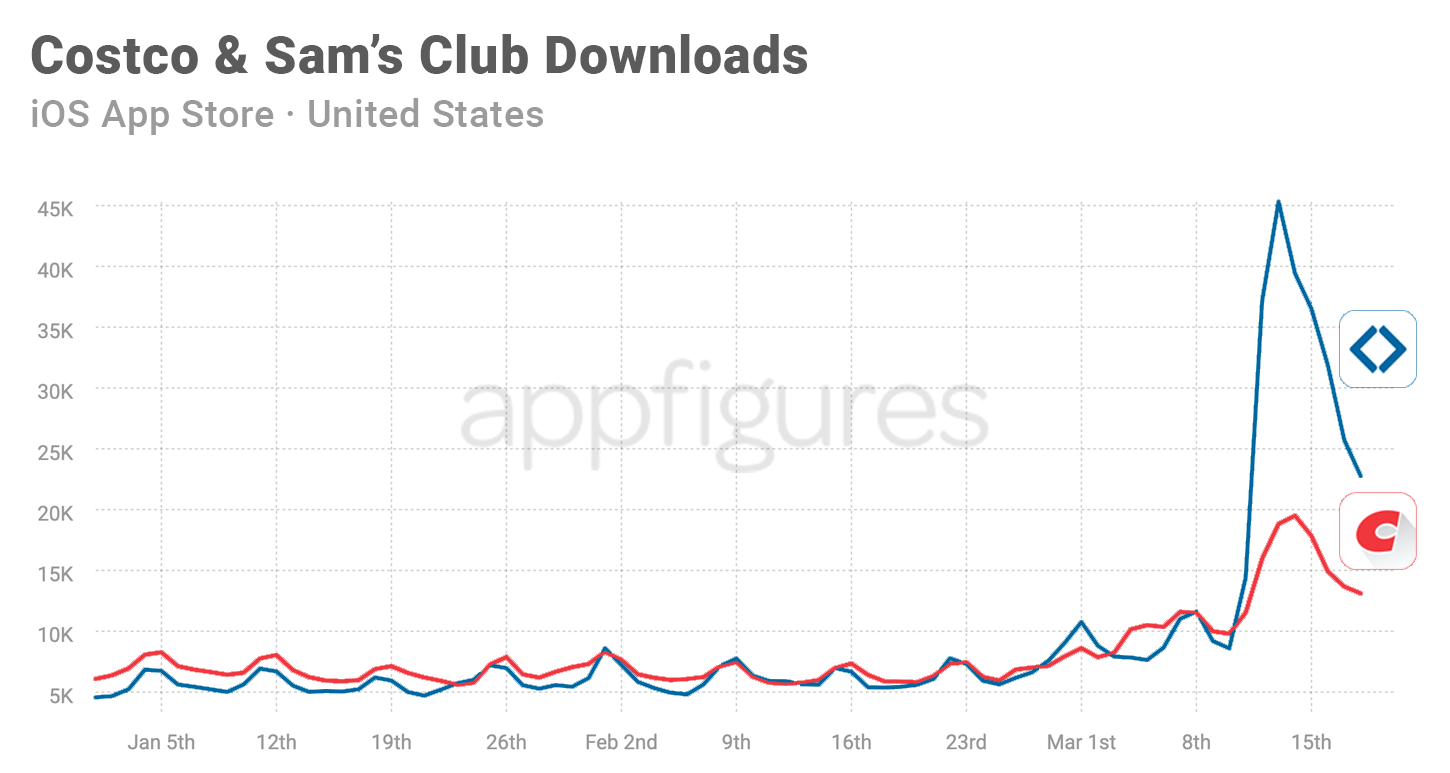 ---
6. Kids are streaming. Downloads of Disney+ doubled earlier in the week as school shutdowns all across the US turn Disney's kid-friendly content from a luxury and to a necessity.
About the Data
The insights in this report come from our proprietary, high-quality app intelligence. App makers, universities, banks, investors, and journalists all over the world rely on our app intelligence every day. Use it too →