This Week in Apps #7 - TikTok's New Record, India ♥️ Fortnite but not Amazon, Facebook's Zoom-Envy, and more
This Week in Apps is a short, no-fluff, round-up of interesting things that happened in the mobile industry. With the coronavirus continuing to cause uncertainty, there's a lot going on right now. Here are our top highlights.
1. Best quarter ever!
TikTok continues on its course to world domination with the strongest quarter of downloads ever. The video network loved by gen Zs all over the world saw more than 200 million new downloads this year, 27% of which came from India. Report
2. India isn't buying it
While downloads of Amazon's shopping app continue to grow worldwide, there's one country where the trend is reversed—India. In March, downloads started a steep decline and now are at about 1/3 of what they used to be pre-lockdown.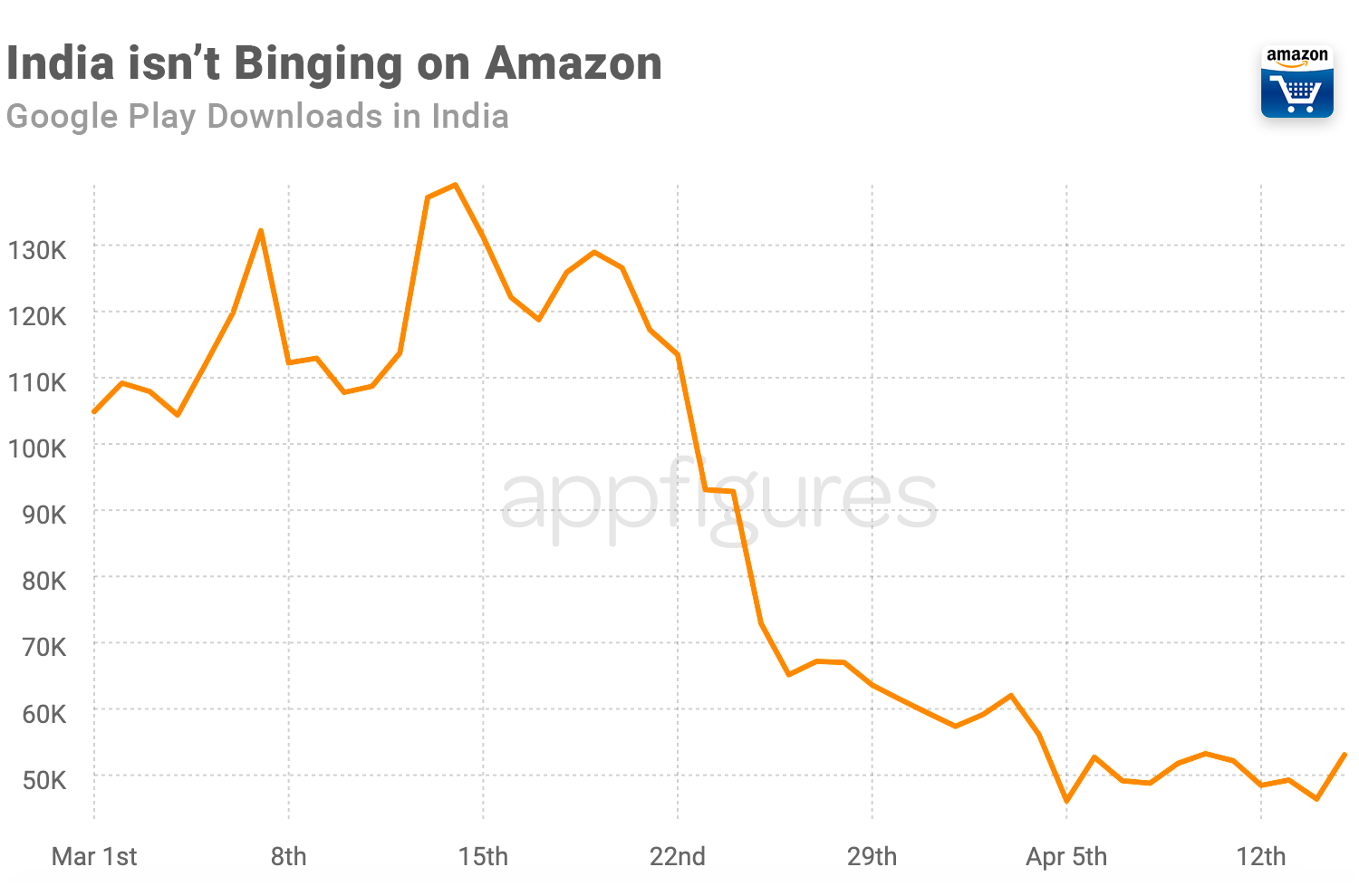 3. A great week for Fortnite
Fortnite's first full week download numbers are in, and they're pretty good. Much better than the first day suggested. Unsurprisingly, the US, India (which is a star this week), and Brazil were the biggest markets. We expect India and Brazil to overtake the US in downloads within the next few weeks.
4. Everyone's doing it
Every video chat provider out there has Zoom-envy, and Facebook is no different. Last week the social network joined the race with its own free video chat competitor called Rooms. Based on download trends, people are excited about this.
5. You've got mail
It's not often that you hear about the US Postal Service these days, but in the last few weeks, it's become much more popular across the App Store and Google Play. Stimulus checks and lockdown-shopping have caused downloads to triple.
6. Homeschooled by app
Education apps have been in demand now that most schools are closed. Language app Duolingo's lesser-known app, ABC, for teaching kids to read, has seen its downloads grow by a factor of 10 during the lockdown.
7. China's new normal
China is starting to settle into its "new normal." Although things are opening up, without a vaccine, they won't go back to the "normal" we remember so quickly. On the App Store, that means continuing strong demand for shopping apps, some demand for travel apps, and a steady but slower demand for business apps. Mobile Download Index
Get to Know the Market
The insights in this report come from our proprietary, high-quality app intelligence. App makers, universities, banks, investors, and journalists all over the world rely on our intelligence and insights every day. Learn more