This Week in Apps #21 - Fortnite, TikTok, Uber, and more
This Week in Apps is a short, no-fluff, round-up of interesting things that happened in the mobile industry. Here are our top highlights.
U.S. Mobile Download Index: App Store 83.37, Google Play 88.30
---
Uber's side hustle
Uber's primary business has always been its ride-sharing service. Although Uber Eats also existed, it was always secondary. Then, the world went into lockdown, and everything flipped for Uber. As downloads of Uber's main app took a significant hit during lockdown, down more than 80% according to our estimates, secondary stream Uber Eats maintained its stride and even grew for a few months.
Early into lockdown, we estimate downloads of Uber Eats grew more than 30% globally.
Fortnite's big milestone
Fortnite crossed 100 million downloads last month according to our app intelligence and used that impressive number to convince investors to give it a massive funding round of $1.78 billion. That's right, billion with a b. Fortnite has had a fantastic run since its launch on the App Store in 2018, but lockdown downloads + getting into Google Play have given the title a strong push.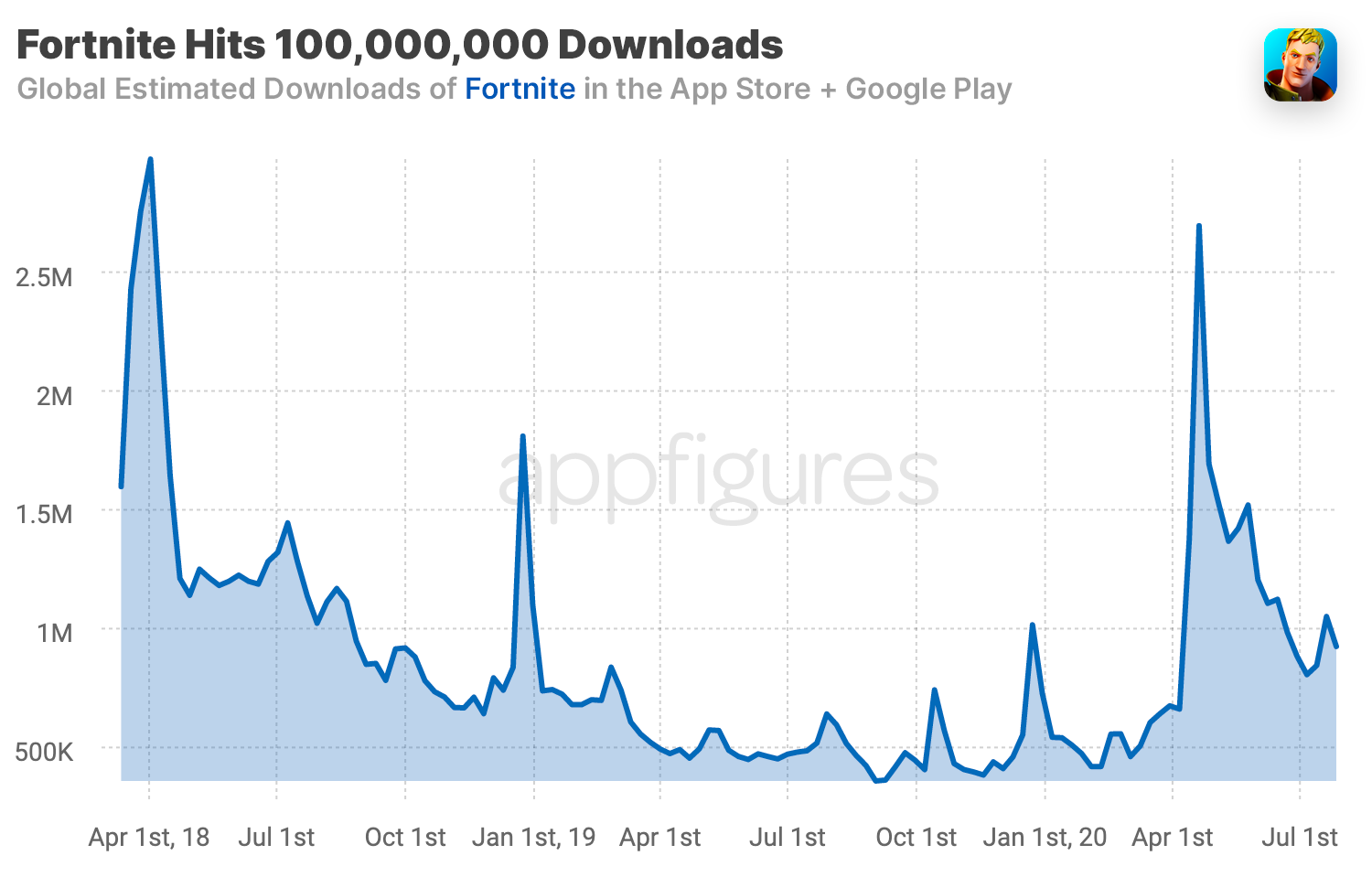 Byte byte
One app that's recently made the news as a potential TikTok replacement is byte, a social video platform from the original maker of Vine. It was released earlier this year but didn't really catch on. Fast forward eight months, and it still hasn't, but... with every jab TikTok takes in the U.S. byte gets another spike in downloads.
Last weekend, as the U.S. threatened to ban TikTok, downloads of byte spiked, bringing in a little over 500,000 new downloads.
TikTok's coin collection
TikTok is in the news (and this newsletter) very often for its downloads, but what's even more interesting is its in-app revenue. Like Twitch, TikTok sells in-app currency (called coins), which users can gift to creators they like.
Like Twitch, TikTok users have been buying coins by the bucket during lockdown, pushing weekly revenue in the U.S. App Store to more than $2 million in March, and around $1.25 million last week based on our app intelligence.
Up from just about $450 thousand in January, this means an increase of 170%.
Airbnb for pools
Yes, that's a real thing! over the last few weeks, Swimply has been gaining traction. The app connects pool owners with pool wanters, so the former can make an extra buck while the latter splashes (safely) outside.
Our estimates show downloads shot up over the last few weeks, netting Swimply its best day so far this Wednesday, which brough in more than 4,000 new downloads across the App Store and Google Play.
That's it for this week. Get these insights by email by subscribing to the newsletter.
App Intelligence for Everyone!
The insights in this report come right out of our App Intelligence platform, which offers access to download and revenue estimates, installed SDKs, and more! Learn more about the tools or schedule a demo with our team to get started.
Are you a Journalist? You can get access to our app and market intelligence for free through the Appfigures for Journalists program. Contact us for more details.
All figures included in this report are estimated. Unless specified otherwise, estimated revenue is always net, meaning it's the amount the developer earned after Apple and Google took their fee.