Disney+ Arrives in Europe, Gets More than a Million New Downloads
On March 24th, a few days ahead of schedule, Disney+ launched in Western Europe. The release caused downloads to double globally on launch day, beating stream king Netflix in every country and getting very close to beating Netflix globally.
Disney+ launched in 6 new countries: Austria, Germany, Italy, Spain, Switzerland, and the UK, all of which are under fairly strict lockdown rules as a result of COVID-19, which is sure to make for a better launch.
Here's what downloads look like two full weeks after the launch in the App Store: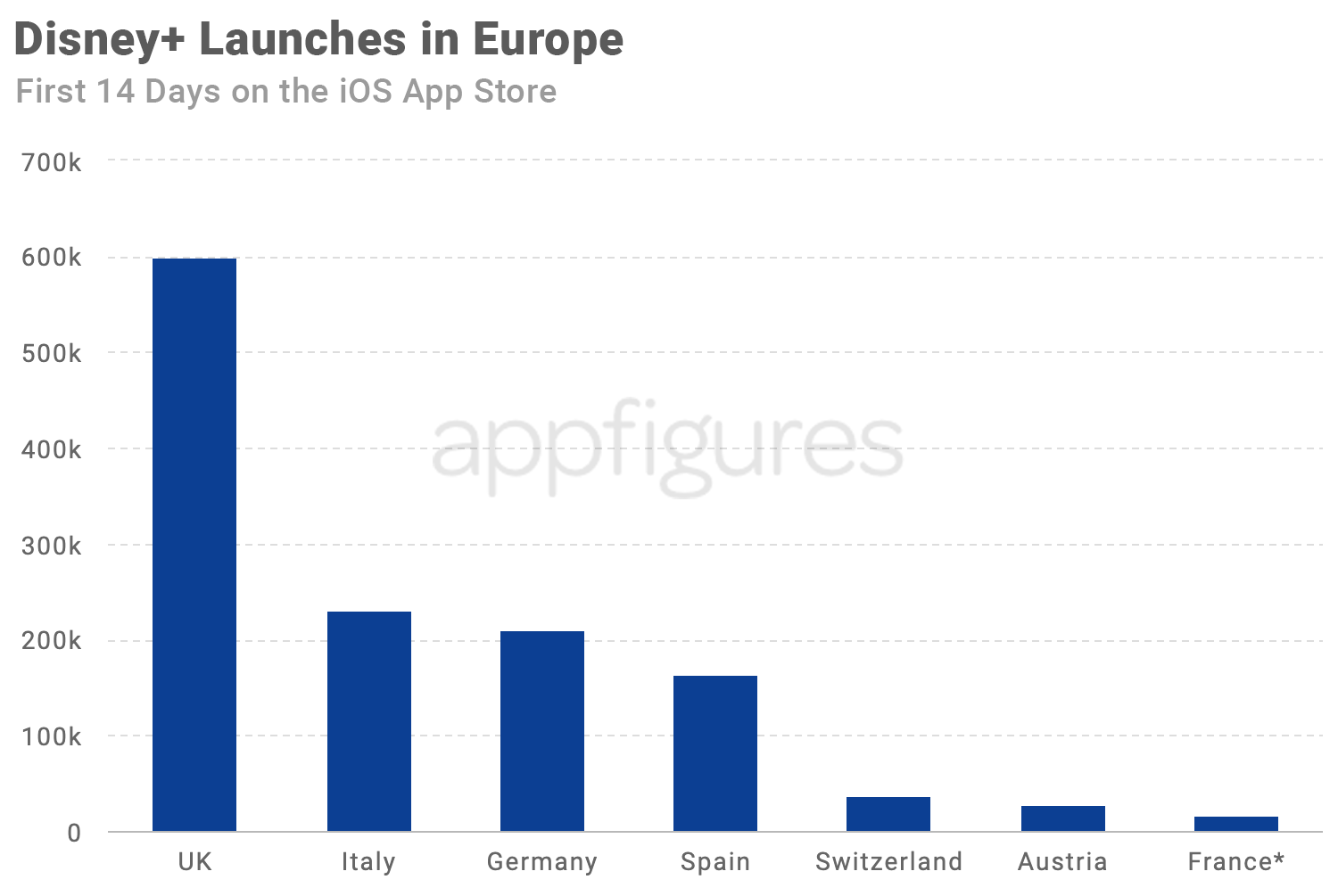 * Disney+ delayed its launch in France until 4/7, so the downloads are for a single day and not the full two weeks as other countries.
The UK has taken to Disney+ the most so far with nearly 600,000 downloads in the first two weeks. Italy, Germany, and Spain, all enduring one of the tightest lockdowns in the world, combined to roughly the same number of downloads.
1,000,000+ Downloads in the First Two Weeks
All in all, the European launch has given Disney+ more than 1.2 million new users. Let's compare this launch to the original launch in the US and Canada on November 7th, and a few days later, Australia and New Zealand.
Europe's 1.2 million downloads come very close to the US's 1.9 million downloads. With Canada, Australia, and New Zealand, the original launch gets closer to 2.5 million, or about double that of Europe, but that's still excellent news for Disney's subscriber potential.
It's worth noting that since launch, Disney+ was downloaded more than 18.5 million times outside of Europe. If the trend in Europe is anything like those other countries, Disney+ is likely to add 10 million more users in the next five months.
Is Disney+ a Netflix Killer?
To get an idea for how downloads of Disney+ compare to Netflix, here is the same chart as above but with download for Netflix in the same countries and period:
* Disney+ delayed its launch in France until 4/7, so the downloads are for a single day and not the full two weeks as other countries.
Disney+ is giving Netflix a run for its money. But, Netflix has been around in these countries for a while, and the two serve somewhat different content, so the numbers shouldn't spell trouble for Netflix.
In the end, however, all streaming services compete on attention, and right now, Disney+ has a lot of that.
App Intelligence for Everyone!
The insights in this report come right out of our App Intelligence platform, which offers access to download and revenue estimates, installed SDKs, and more! Learn more about the tools or schedule a demo with our team to get started.
Are you a Journalist? You can get access to our app and market intelligence for free through the Appfigures for Journalists program. Contact us for more details.
All figures included in this report are estimated. Unless specified otherwise, estimated revenue is always net, meaning it's the amount the developer earned after Apple and Google took their fee.