We first witnessed an extreme surge in downloads of news apps in mid-March as the pandemic spread and are now seeing it again as activism sweeps across the nation. During this last week, waves of protests spread across hundreds of cities. Stacked on top of two months of lockdown in the US, there's no doubt about it – tensions are high. Now, more than ever before, this is a time to stay informed.
Demand for News Apps Spike as Protests Spread
As we continue facing a period of uncertainty and grow hungrier for more information, we're turning once again to apps for the answers. From news aggregation to more traditional networks, there have been upticks in downloads ranging from +230% (News Break) to +1,200% (CNN) within the last week… with no signs of slowing.
Police Scanners Take Top Ranks from Tiktok, Google and Facebook
Driven by protestors with a newfound interest in police scanners, 5-0 Radio Police Scanner and Police Scanner Radio & Fire worked their way into the App Store's top ranking positions, pushing down traditional leaders like Tiktok, Youtube, Facebook, and Instagram.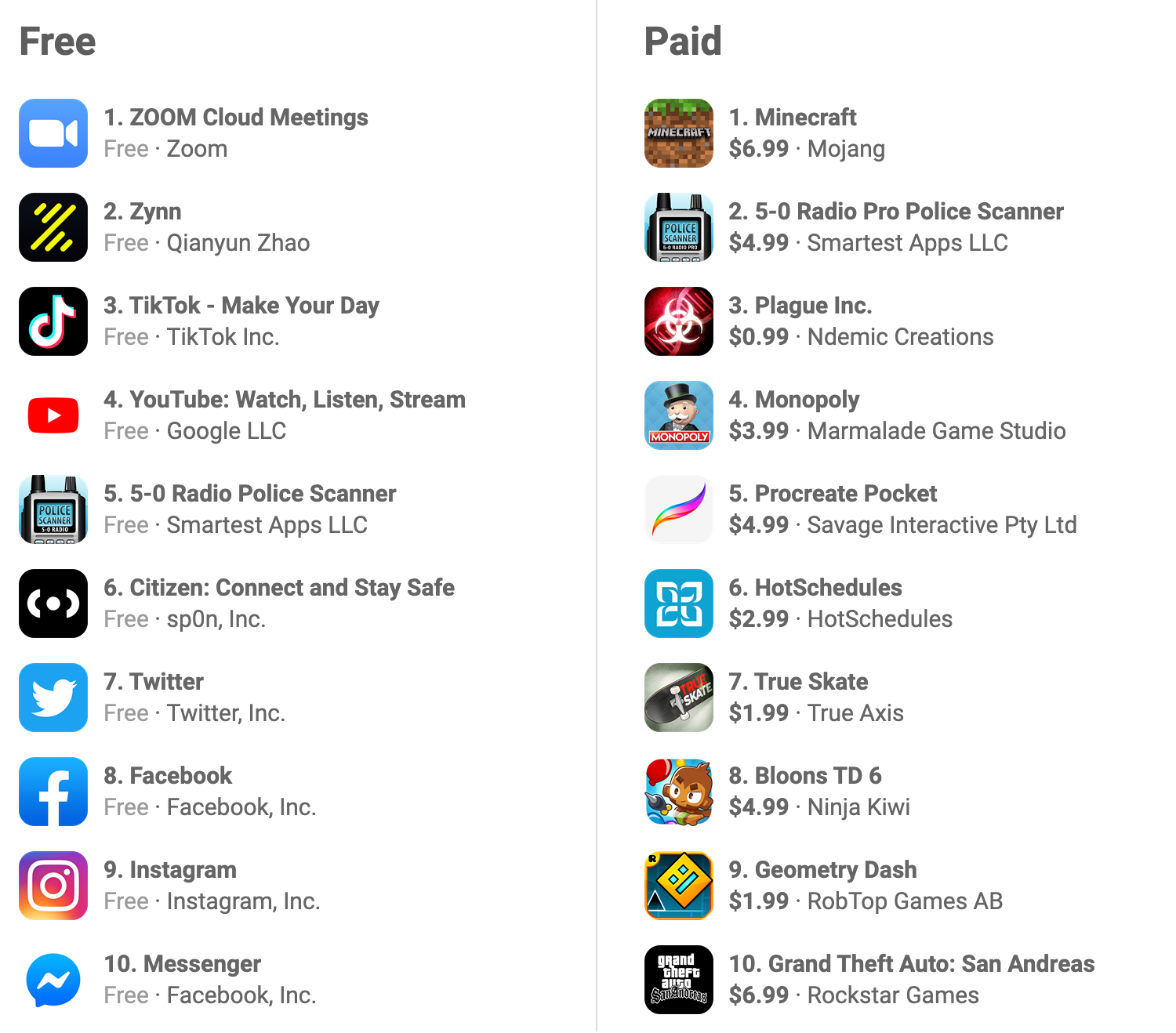 Despite renewed demand for news apps, a quick look within category rankings shows that many of these apps are actually being displaced. Community-awareness app, Citizen, takes the #1 spot. A few other police scanners also hold positions among the Top 10. Also interesting to note, police scanners currently comprise 8 of the top 10 paid apps in the News category.
Hundreds of Thousands are Listening In
Over the last week, 5-0 Radio Police Scanner experienced an increase from an average of 5k downloads per day in the US to 68k per day (13x growth), while Citizen saw downloads jump from an average of 6k to 48k per day (8x growth).
As uncertainty continues to dominate one thing we can be thankful for is that the information is within reach if you want it. If you're going to be one the move these days, the tools are available. Stay informed and stay safe.
The World is Becoming Mobile
Apps control our lives, our devices, and at this point, how we interact with others. Use app intelligence to get a better understanding of the market and gain a competitive advantage. Learn more about our data and tools.