This Week in Apps #29: The NFL is Back, NY Starts Tracing, and More
This Week in Apps is a short, no-fluff, round-up of interesting things that happened in the mobile industry. Here are our top highlights.
U.S. Mobile Download Index: App Store 76.24, Google Play 80.13
---
The NFL is back, big time
The NFL is the latest sport to "come back", mostly fan-less, which drove eager spectators to none other but their mobile devices.
With more than 2.6M estimated downloads in 2020, most coming in the last four weeks, the NFL's mobile app has been downloaded the most of any other major sport this year.
New York gets tracing
Yesterday, my home state of New York (finally) rolled out its own contact tracing app. Almost instantly, the app rose to the top of the Health & Fitness category in the U.S. App Store and is also the #25 app overall. The app is also moving up on Google Play, where it's #17 in its category and #150 overall in the U.S.
Klarna's buy now pay later is in high demand
Klarna, a service that lets you buy now and pay later, has seen a massive increase in downloads earlier this week. The Swedish company, which recently raised quite a bit of cash, saw daily downloads nearly triple this week.
According to our estimates, downloads grew from roughly 40K in early September to more than 114K on Tuesday.
Is this another COVID-born trend?
Still customizing
Widgets have dominated the App Store after the release of iOS 14, but another new trend that started is using shortcuts to customize app icons. This new trend brought focus to Launch Center Pro, one of the original apps to add the concept of shortcuts on iOS.
According to our estimates, downloads have grown by two orders of magnitude (100x), from high 2-digits before iOS 14's release to a peak of more than 10,000 downloads per day last week.
Getting sherlocked isn't the end.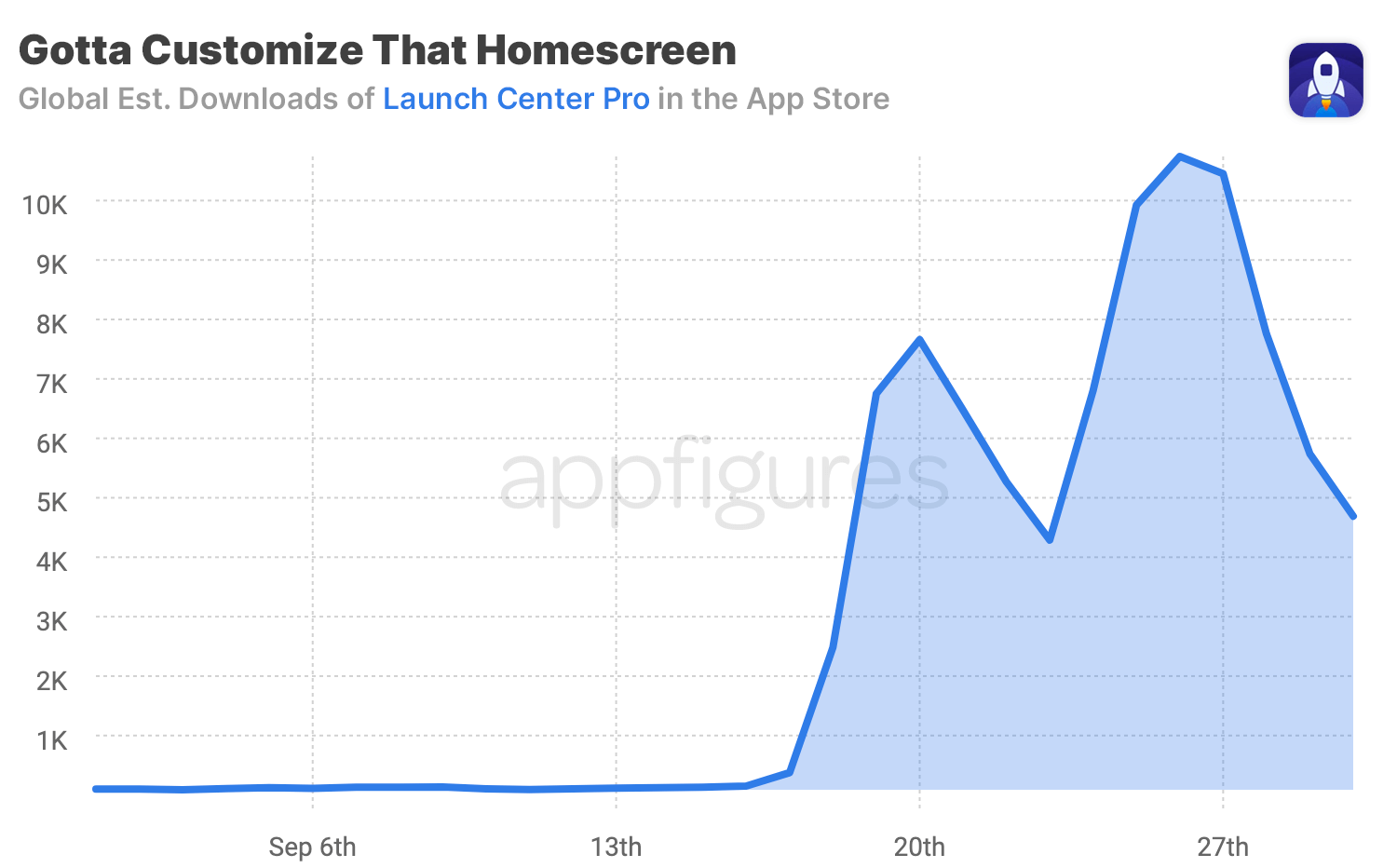 What does getting featured on the App Store look like?
One of my favorite puzzle games got featured by Apple in September, which had a massive impact on downloads.
According to our estimates, Blackbox, an indie game that won an Apple Design Award a few years ago, saw daily downloads grow from about 500 in early September to more than 9,600 while being featured in the U.S. App Store last week.
To the indies who think you can't make it anymore—You can!
And that's all we have for this week. If you've enjoyed these insights, consider subscribing to the weekly newsletter.
Get Started with Competitor Intelligence
The insights in this report come from our proprietary, high-quality app intelligence. App makers, marketers, banks, investors, and journalists all over the world rely on our affordable app intelligence every day. Learn more →
About the Data
This report is based on download and revenue estimates generated using our proprietary, high-accuracy, machine learning and statistical models. We never use actual data in public reports.