Connecting Your Google Play Account
Linking your Google Play account will enable you to track the following with Appfigures:
App downloads and revenue
In-App Purchase downloads and revenue
Subscriptions revenue, MRR, Churn, and more
Hourly ranks
Ratings
Reviews
Featured placements
Connecting Your Google Play Account
Allow Appfigures access to your Google Play account by clicking the following link: http://accounts.google.com/DisplayUnlockCaptcha
Log into your Appfigures Account
Go to your Linked Accounts by clicking on your name (top right) and then on "Link Account"
Click on "Link an Account"
Select Google Play from the list of providers
Enter the email address and password for your Google account
Click on "Add"
Appfigures will now verify your information and connect your account. You may be asked to verify with Google during this process.
Once connected, your data will begin populating in the next few minutes.
---
Although your Google account may have access to non Google Play areas, Appfigures will only use the linked account to import sales data for your apps. To restrict access to only sales data we recommend creating a separate Google account with limited permissions, and using it instead of your main Google account.
This is completely optional, but if you'd like to do it this is how:
Creating a sub user in the Play Console
You'll need to have admin privileges to continue with this process.
Start by logging into your Google Play Developer Console. 
Click on Users and permissions
Select Invite new users
Give the sub-user and email that isn't your main email but you have access to.
Set Access expiry date to Never
Next, set up the permissions for the account through Account permissions tab. Check the box under View app information and download bulk reports (read-only). Under the section for Financial access check the box for View financial data, orders, and cancellation survey responses. These permissions provide read-only access to reports without the ability to manage your apps or banking information.
Click on Invite user
This is what Account permissions will look like: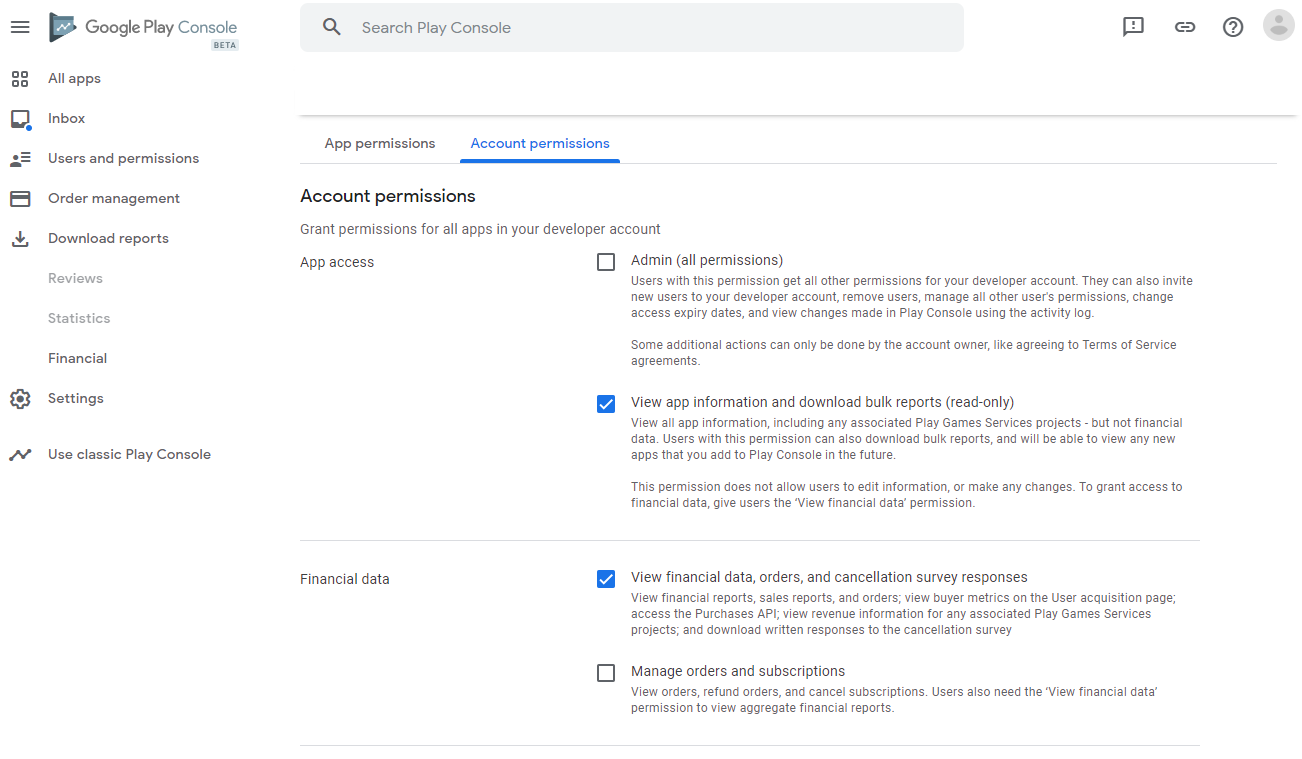 Google will send an email to the address you provided. Follow the instructions in the email to complete the setup.
When setting up your password we suggest using a complex password since you won't really have to remember it after entering it into your Appfigures account.
GSuite Setup
If you're a part of a GSuite account you'll need to make sure to whitelist the Appfigures app.
You can do that by following these steps:
Click on "Configure new app" -> "OAuth App Name or Client ID"
Search for "Appfigures" and select it
Select all the OAuth Client IDs presented
Select the "Trusted: Can access all Google services" option
Click "Configure"