Parler Overtakes Twitter in the U.S. as Downloads Grow by 8,300%
FYI: We released a new report on Parler's download performance during elections week (hint: lots more downloads). Check it out →
Twitter has become a crucial component for presidential campaigns, and Trump's favorite stage for talking directly to his supporters. Partly because it's very simple to post and follow, and partly because it didn't intervene in the content of those posts (aka. censorship).
That last one is no longer the case. In May, Twitter started censoring posts from Trump for violating their terms. To some, they added warnings. Others were hidden altogether. In addition to that, last week, Twitter banned a pro-Trump account without explanation (but later cited copyright infringement).
Trump, conservatives, and other Republicans weren't happy with Twitter. This week they showed it by moving to a new "stage," an app by the name of Parler.
Wait, What's Parler?
Parler is a Twitter-like app that boasts free speech and user privacy. The app itself looks almost identical to Twitter but with a slightly less polished design. You can post, follow, and DM. Up until recently, the app averaged a little over 2,000 downloads per day. With Trump's campaign and many other Republican politicians telling their followers to move to Parler however, that's changed:
Parler's downloads have been on the rise for the last two weeks, but it's the last few days where it saw the most noticeable gain. Going from just 1.7K downloads on the App Store and Google Play on June 9th to more than 143,000 on Friday, June 29th.
Hundreds of Thousands Flock to Parler in June
According to our app intelligence, so far in June, Parler added a little more than 470,000 downloads across the App Store and Google Play.
Another thing we noticed is that downloads are split evenly between iOS and Android devices, which usually signals growth in a fairly new app. Established apps with more saturated user-bases, tend to grow more on Android, as is the case with Twitter.
Parler Takes Downloads from Twitter
Talking about Twitter...
Parler's exponential growth has given the app the wings it needed to overtake rival Twitter in downloads.
Last Thursday, Parler was downloaded about 12,000 more times between iOS and Android. On Friday, the gap continued to grow, with Parler reaching 122K downloads in the US, double those of Twitter.
Parler is unlikely to really challenge Twitter in the short-term, but if it can gain a more balanced user-base, it just might offer a popular enough alternative.
The New King of News
Parler is currently the #1 app in the News category in the US App Store, and #2 in the Social category on Google Play, second to TikTok. We expect Parler to teen sensation for #1 very soon.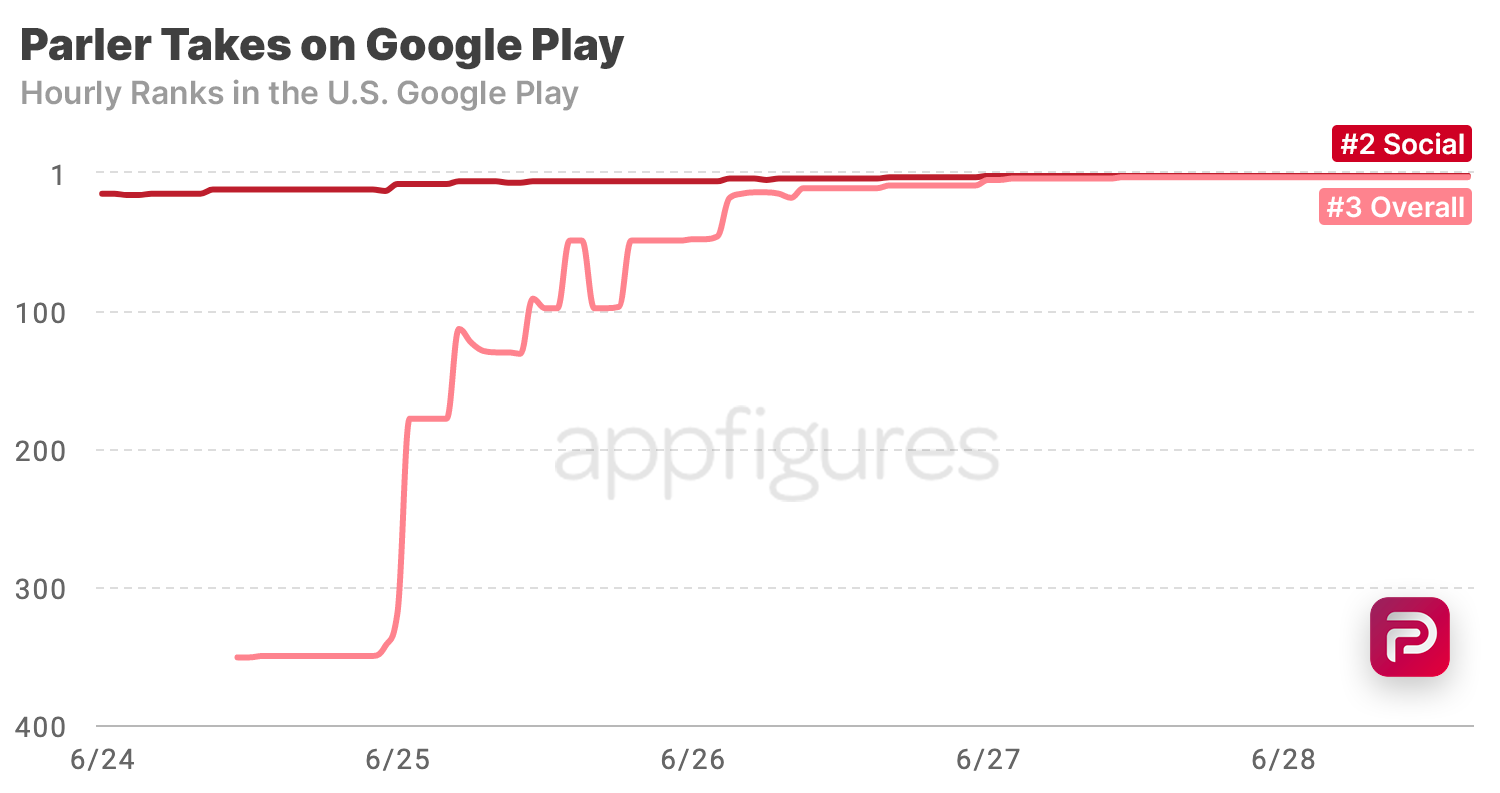 This type of excitement is great for the app, but long-term, is it sustainable? Without a clear path to revenue, and a business model that rejects monetizing with ads, Parler's path to growing and becoming a real company is still unknown.
---
Intelligence to Beat the Competition
To succeed on the App Store and Google Play you need to know how your competitors are performing. Using our app intelligence, mobile companies of all sizes analyze the market and gain a competitive edge. Learn more about our data and tools.
About the Data
Data in this report is based on download and revenue estimates generated using our proprietary estimate models and are not based on actual app downloads.